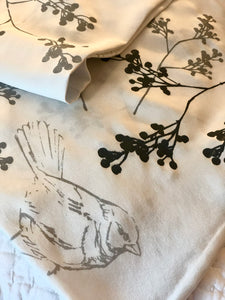 Wren and Berries
Regular price $60.00 Sale
There are many benefits of sleeping on silk!  Silk is soft and naturally cool to the touch.  It's is also great for hair and skin.  The smooth texture helps decrease friction and reduces "bed head", frizzing, and breakage.  Skin also benefits from the lack of friction by reducing wrinkles and creases.
These bed pillow cases are 100% hand dyed/printed silk charmeuse.  Hand made to order they feature french seams, and an opening on one end for a pillow to be inserted.  Queen:  20"x30". King 20"x36". Machine wash and dry.  Steam iron if desired.  Note: Silk fibers eventually break down after repeated washing.  
This pillow case design is white silk printed with tones of gray and silver.
Pillow cases are sold individually (1) and made to order.  Allow 1 week for delivery.  Custom color choices available.  Light colors recommended due to frequency of washing.  
These make great gifts!  Shipping is free and personalized note can also be added.  See "note" option at checkout.